I have to be the proud parent and brag about this one. A few days ago, NaNi—who won't be four years old until October—grabbed an old Sunday school art project off the refrigerator, took a pencil and proceeded to write her name on the back. She didn't copy it, she just printed the correct letters.
What's even more interesting, after months of her writing upside down capital As, is that she still hasn't learned all her letters—she can't even correctly name all of the ones in her name yet. She's been able to type her name for a couple of months, and she can recognize a few letters, but we haven't been doing anything to actively show her how to write her name.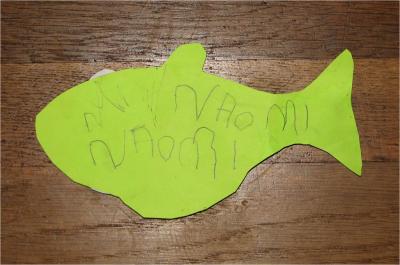 A closer shot of NaNi's first attempt at writing her name.

NaNi wrote these on Sunday. When she has lines, she writes her name quite neatly.