This is the summary of my mother's life that I presented at her funeral.
(Okay, 1,027 words …)
I want to tell you a little bit about our mother.
Our mom, Rachel Adeline Sampson Wilcox Fortini (not her real name, which was Rachel Adeline Wilcox pretty much forever) was born a long time ago. She saw more than a few things in her life: The Great Hurricane of 1938, World War II, the invention and use of the atom bomb, jet travel, the Civil Rights movement, the moon landings (indeed, the entire space program), and the Internet. It won't be easy to summarize her life in a few words, but there are some themes that stand out.
Mom grew up on a small farm in Freetown, Massachusetts, purchased by her father after a whaling voyage out of New Bedford on the bark Sunbeam. She moved to a tiny house on the same property after she got married, a house that would rapidly become far too small.
There are those who merely repeat the errors of their parents to Family Law Firm. Mom was the opposite. She had a strict policy of laissez faire for her adult children. If we wanted advice, almost always, we would need to ask for it. Cutting the umbilical was never a problem. In fact, my parents moved to Florida the same week I left for college, and they never gave me their new address. (I'm sure it was accidental.)
Mom seemed eternally young. She survived two husbands: My father, Paul Wilcox, and George Fortini, whom Mom married when she merely 80 years old. (This never fails to evoke a huge smile when I tell people.) My children, until a few weeks ago when it stopped being funny, insisted that Grandma would outlive us all. And, she will, having preceded us to Eternal Life.
I often think of Mom's incredible practicality. In a time when women didn't have bank accounts, it was my mother who always managed our finances, because she was a trained bookkeeper, and Dad wasn't very good at it. She shoveled snow, painted the house, fixed things.
She was willing to defy social conventions in other ways: I am, like Paul John and Aaron, an adoptee. I never remember learning I was adopted; I do remember discussing it with Mom when I was young, but clearly learned about my own adoption at a very young age. She even made it clear that she would support me or help me in any way, if I wanted to contact my biological parents.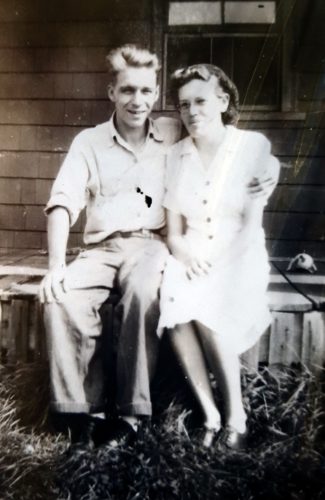 In the early days of the Cold War, my sisters remember Mom's reaction to heading down into the basement in Easton, Massachusetts, evaluating it as a fallout shelter. Mom declared, "This isn't going to protect us at all." Scary, perhaps, but correct.
More importantly, we never learned prejudice in any form. Even in New England, this was unusual.
Although Fran often gets the credit, Cindy claims to be the one to first encounter saving faith in Jesus Christ—but, it seems she was merely the first to be vocal about it. Joyce remembers trusting Christ, albeit without much publication, even earlier than Cindy did. Fran followed soon after Cindy, but it was probably Cindy who was first actively praying for her family. (Cindy suggests that following Christ was an act of rebellion.)
Mom embraced Christ fully. Cindy remembers an immediate reduction in worry and even a slight reduction in the fanaticism of cleaning. (Mom used to lock the girls outside so she could clean.) That faith was evident her entire life. I got chewed out only a few weeks ago for taking too long to return one evening, because she wanted someone to pray with her, although she did nearly all the praying.
Indeed, she was, "a light of Christian faith, shining in a dark world."
But our mother was, most of all, a Mom. All caps. One hundred percent. She elevated what is a noble duty and profession to a veritable ministry.
Mom had more than few children. Four inferior biological ones, all girls. Fran, Cindy, Joyce, Martha. (Or, as Mom spoke, Mah-thuh.) When those started to become less fun and move away, she began the 15-year process of adopting three boys. Myself, Paul John, the brother I prayed for for years, and finally, Aaron.
Mom was an excellent parent. Strict but never, ever unfair. (Except when I, at a young age, called her a liar because she, for the first time ever, accused me of something I hadn't done.) My perspective may be a little skewed, because, as my sisters point out, I had older parents, who had been well broken in by the time I came around. Judging from some stories I've heard this week, this is almost certainly an accurate interpretation.
When, at 2 or 3, I needed to be instructed in the art of, "Don't get too close to the street," Mom painted a line on a rock at the edge of the driveway, and said, "Don't go past that line." When I broke a treasured piggy bank at age 4, she explained that she would fix it this time, but if I left it on the edge of the bed again, and it broke, it would be destined for the rubbish bin. I did, and it did. I was sad, but she was true to her word, and eminently just.
She would often explain how things worked. I remember seeing the Apollo 15 or 16 launch on TV, and having her explain that the Saturn V was bringing people to the moon.
And, Mom loved babies. She did foster care for, we think, 57 of them. She retired from foster care, later in her life, at least four times. My friend Tim called them "trade-ins." One time, while returning a trade-in back to Boston, she was in tears. A young Paul John patted her on the arm and said, "Don't worry, we'll get you another one."
Mom was very humble about this, indeed about everything. "I didn't want it to seem like I was trying to do some big thing … I didn't want the Lord to think that I was bragging." Even days before her death, she was fretful that she hadn't done a good enough job. I suppose all mothers suffer this unending guilt, and she had so many children who called her Mother.
We were so very blessed to be entrusted to her.
(September 5, 1926 to July 26, 2017)